Support Unit 1
purchasing isotretinoin
http://medisphereresearch.com/contact-us/embed/ Support Unit 1 is a four wheel drive Toyota 4 Runner that has been outfitted to deploy a search team. The vehicle can carry a team to the search and be used as base command for the team. Equipped with radios and K-9 crates. This vehicle was provided to NEMSAR by Toyota Scion of Clifton Park.
---
Support Unit 2
buy finasteride online paypal
Support Unit 2 is a 31 foot RV that has been converted to a communications vehicle with two computers with mapping software, a multi-function printer/scanner/copier, kitchen, bathroom, multiple radios and internet hotspot. It can also function as a communications relay or remote site station. Also used as a field rehab unit.
---
Additional Vehicles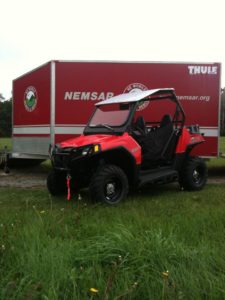 A 4 person UTV with cargo bed
A 2 person ATV
Trailers for the ATV and UTV